Round Hole Perforated Screen – The Most Popular and Economical Pattern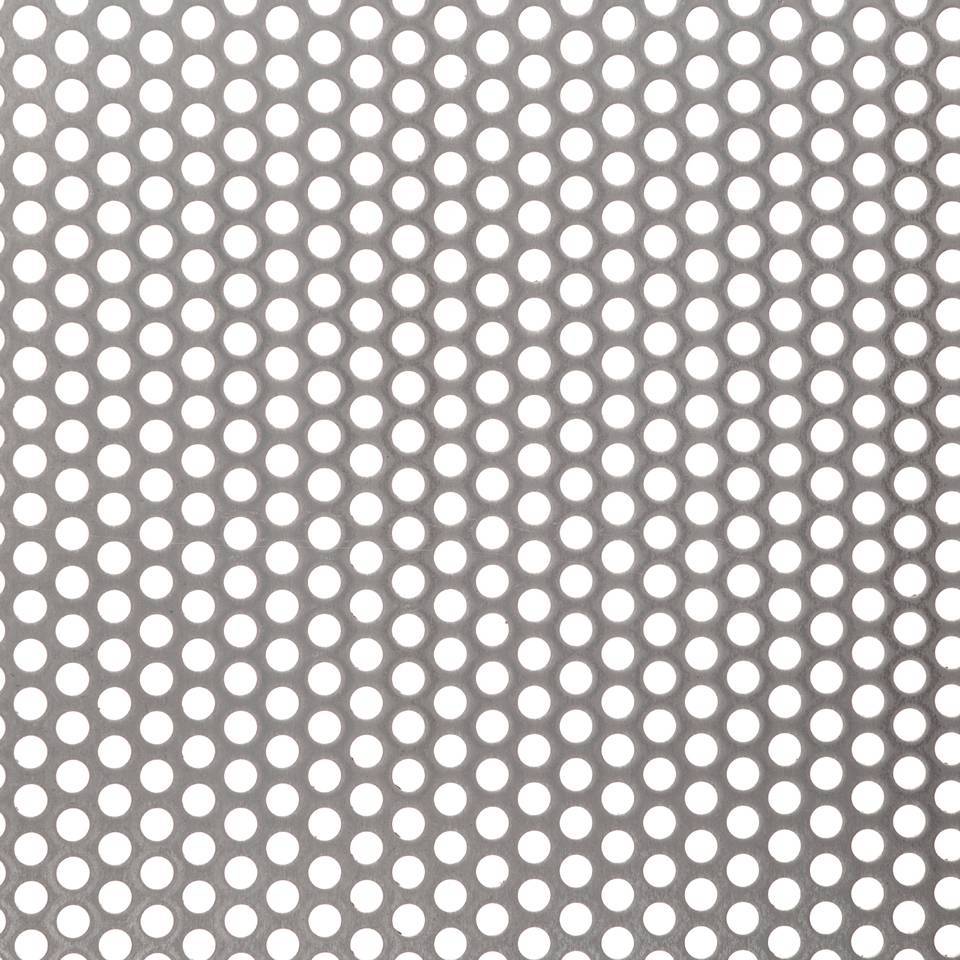 Round hole perforated metal is the most common and widely used type, and its visual effect is remarkable.
Generally, the perforated hole diameter should not be smaller than material thickness.
And the space between two neighbouring holes should be equal to or larger than the material thickness. Or the material structure would not be stable or strong.
Overview
Round hole has three arrangement patterns: straight pattern(90° staggered pattern), 60° staggered pattern and 45° staggered pattern. Among the three patterns, 60° staggered pattern is the most widely used type. It provides the largest open area to maintain materials strength.
45° Staggered Pattern
60° Staggered Pattern
Straight Pattern
Model
Rd 4.8-8.4
a (mm)
4.8
t (mm)
8.4
P (mm)
25
Thickness (mm)
0.5–3.0
Materials
SS, Al, Cu, etc.
Size
1 m × 2 m
1.22 m × 2.44 m

Calculator

Common Specifications

Here are some common specifications of the round hole. We can also provide more, if you have special requests, please contact us .

45° Staggered Pattern

| Item | a (mm) | t (mm) | P (%) |
| --- | --- | --- | --- |
| Rd 2-6 | 2 | 6 | 17.4 |
| Rd 3-8 | 3 | 8 | 22.1 |
| Rd 3.6-8 | 3.6 | 8 | 31.8 |
| Rd 4-8 | 4 | 8 | 39.3 |
| Rd 4.8-8.4 | 4.8 | 8.4 | 25 |
| Rd 5-9 | 5 | 9 | 48.5 |
| Rd 5-12 | 5 | 12 | 27.3 |
| Rd 6-10 | 6 | 10 | 56.5 |
| Rd 6-16 | 6 | 16 | 22.1 |
| Rd 7-14 | 7 | 14 | 39.3 |
| Rd 8-18 | 8 | 18 | 31.0 |
| Rd 12-28 | 12 | 28 | 28.8 |
| Rd 14-30 | 14 | 30 | 34.2 |
| Rd 14-32 | 14 | 32 | 30.1 |
| Rd 15-34 | 15 | 34 | 30.6 |
| Rd 15-40 | 15 | 40 | 22.1 |
| Rd 16-34 | 16 | 34 | 34.8 |
| Rd 16-40 | 16 | 40 | 25.1 |
| Rd 18-34 | 18 | 34 | 44.0 |
| Rd 26-50 | 26 | 50 | 42.5 |
| Rd 32-60 | 32 | 60 | 44.7 |

Model
Rv 3-4
a (mm)
3
t (mm)
4
P (mm)
51
Thickness (mm)
0.5–2.5
Materials
SS, Gal, Al, Cu, etc.
Dimensions
1 m × 2 m
1.22 m × 2.44 m
Customization available

Calculator

Common Specifications

Here are some common specifications of the round hole. We can also provide more, if you have special requests, please contact us.

60° Staggered Pattern

| Item | a (mm) | t (mm) | P (%) |
| --- | --- | --- | --- |
| Rv 0.8-2 | 0.8 | 2 | 14.6 |
| Rv 1-2 | 1 | 2 | 22.8 |
| Rv 1.2-2.25 | 1.2 | 2.25 | 25.9 |
| Rv 1.2-2.5 | 1.2 | 2.5 | 21.0 |
| Rv 1.5-2.75 | 1.5 | 2.75 | 27.0 |
| Rv 1.5-3 | 1.5 | 3 | 22.8 |
| Rv 1.8-3.5 | 1.8 | 3.5 | 24.1 |
| Rv 2-3 | 2 | 3 | 40.4 |
| Rv 2-3.5 | 2 | 3.5 | 30.0 |
| Rv 2-4 | 2 | 4 | 22.8 |
| Rv 2.5-3.5 | 2.5 | 3.5 | 46.0 |
| Rv 2.5-4 | 2.5 | 4 | 35.5 |
| Rv 2.5-4.5 | 2.5 | 4.5 | 28.0 |
| Rv 2.5-5 | 2.5 | 5 | 22.8 |
| Rv 3-4 | 3 | 4 | 51.2 |
| Rv 3-5 | 3 | 5 | 33.0 |
| Rv 3-6 | 3 | 6 | 22.8 |
| Rv 3.5-5 | 3.5 | 5 | 44.6 |
| Rv 4-5 | 4 | 5 | 58.2 |
| Rv 4-6 | 4 | 6 | 40.4 |
| Rv 4-8 | 4 | 8 | 23.0 |
| Rv 5-7 | 5 | 7 | 46.4 |
| Rv 5-8 | 5 | 8 | 35.0 |
| Rv 5-10 | 5 | 10 | 22.8 |
| Rv 5-25 | 5 | 25 | 3.6 |
| Rv 6-8.5 | 6 | 8.5 | 45.3 |
| Rv 6-9 | 6 | 9 | 40.0 |
| Rv 6-10 | 6 | 10 | 32.8 |
| Rv 7-10 | 7 | 10 | 44.6 |
| Rv 8-11 | 8 | 11 | 48.1 |
| Rv 8-12 | 8 | 12 | 40.0 |
| Rv 8-15 | 8 | 15 | 25.9 |
| Rv 10-13 | 10 | 13 | 53.8 |
| Rv 10-14 | 10 | 14 | 46.4 |
| Rv 10-15 | 10 | 15 | 40.4 |
| Rv 10-18 | 10 | 18 | 28.1 |
| Rv 12-16 | 12 | 16 | 51.0 |
| Rv 12-17 | 12 | 17 | 45.3 |
| Rv 15-20 | 15 | 20 | 51.2 |
| Rv 15-21 | 15 | 21 | 46.4 |
| Rv 20-25 | 20 | 25 | 58.2 |
| Rv 20-27 | 20 | 27 | 49.9 |
| Rv 20-28 | 20 | 28 | 46.4 |
| Rv 20-30 | 20 | 30 | 40.4 |
| Rv 25-34 | 25 | 34 | 49.2 |

Model
Rg 2-3
a (mm)
2
t (mm)
3
P (%)
34.9
Thickness (mm)
0.5–1.0
Materials
SS, Gal, Al, Cu, etc.
Dimensions
1 m × 2 m
1.22 m × 2.44 m
Customization available

Calculator

Common Specifications

Here are some common specifications of the round hole. We can also provide more, if you have special requests, please contact us.

Straight Pattern

| Item | a (mm) | t (mm) | P (%) |
| --- | --- | --- | --- |
| Rg 1-1.5 | 1 | 1.5 | 34.9 |
| Rg 2-3 | 2 | 3 | 34.9 |
| Rg 2-4 | 2 | 4 | 19.6 |
| Rg 2.5-5.5 | 2 | 5 | 16.2 |
| Rg 3-6 | 3 | 6 | 19.6 |
| Rg 4-8 | 4 | 8 | 19.6 |
| Rg 4.5-15 | 4.5 | 15 | 7.1 |
| Rg 5-8 | 5 | 8 | 30.7 |
| Rg 5-25 | 5 | 25 | 3.1 |
| Rg 5.5-20 | 5.5 | 20 | 5.9 |
| Rg 6-10 | 6 | 10 | 28.3 |
| Rg 6.5-10 | 6.5 | 10 | 33.2 |
| Rg 7-20 | 7 | 20 | 9.6 |
| Rg 8-12 | 8 | 12 | 39.4 |
| Rg 9-18 | 9 | 18 | 19.6 |
| Rg 10-14 | 10 | 14 | 40.1 |
| Rg 10-15 | 10 | 15 | 34.9 |
| Rg 10-20 | 10 | 20 | 19.6 |
| Rg 11-28.5 | 11 | 28.5 | 11.7 |
| Rg 12-15 | 12 | 15 | 50.2 |
| Rg 12-18 | 12 | 18 | 34.9 |
| Rg 13-30 | 13 | 30 | 14.7 |
| Rg 14-30 | 14 | 30 | 17.1 |
| Rg 15-20 | 15 | 20 | 44.2 |
| Rg 16-25 | 16 | 25 | 32.2 |
| Rg 17-25 | 17 | 25 | 36.3 |
| Rg 18-28 | 18 | 28 | 32.4 |
| Rg 20-30 | 20 | 30 | 34.9 |
| Rg 30-50 | 30 | 50 | 28.3 |